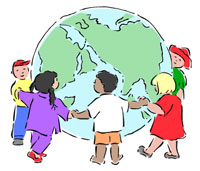 We at Edgewood Baptist Church know that it is not always easy raising our children in a world with decreasing morals, peer pressure and substance abuse.
We love your children and are here to minister to them and you in any way we can. We strive to provide various activities, which your children will enjoy in an atmosphere filled with love and care.
It is our prayer that your children will enjoy their childhood, as a child should. Please support your children and help them grow in Christ because He is the only One who can offer true hope.
Thank you for allowing us to have a small part in your child's life.
-Edgewood Children's Council
Suffer the little children to come unto me, and forbid them not: for of such is the kingdom of God. - Mark 10:14
Activities:
Calendar